Empowerment through Mental Health Awareness
This month's podcast highlights revolve around the theme of courage and resilience, and I had the honor of having deep conversations with extraordinary individuals who embody these characteristics. Each of these guests brought a unique perspective and shared their inspiring stories, shedding light on the unwavering strength of the human spirit. They showcased immense courage, resilience, and determination from overcoming personal adversities to navigating professional challenges.
Join me as we delve into the incredible journeys of these remarkable individuals, learning valuable lessons along the way.
Courage & Resiliency
This metaphor portrays courage as a dynamic force that propels us forward despite fear, and resilience as the unwavering strength that helps us withstand and recover from difficult situations.
As I pondered upon the essence of courage and resiliency, a quote from Paramahansa Yogananda, a spiritual teacher, and yogi, came to mind: "The season of failure is the best time for sowing the seeds of success. The tide of adversity is, in fact, the time of opportunity." These words resonate deeply and encapsulate the indomitable spirit that encourages us to embrace our fears, learn from our failures, and transform challenges into stepping stones toward personal growth.
Modern-Day Challenges For the Professional Woman
I am no stranger to the common challenges faced by mid-life professional working women or female entrepreneurs that require courage and resilience.
As a woman who has spent years working in the corporate world, I understand firsthand the multitude of challenges that can arise and contribute to emotional and psychological stress. The journey of a mid-life professional working woman or a female entrepreneur is often filled with unique hurdles that demand immense courage and resilience. From juggling work-life balance to breaking through gender biases, these challenges can test our limits. However, it is in the face of these trials that we discover our inner strength and find the power to overcome it.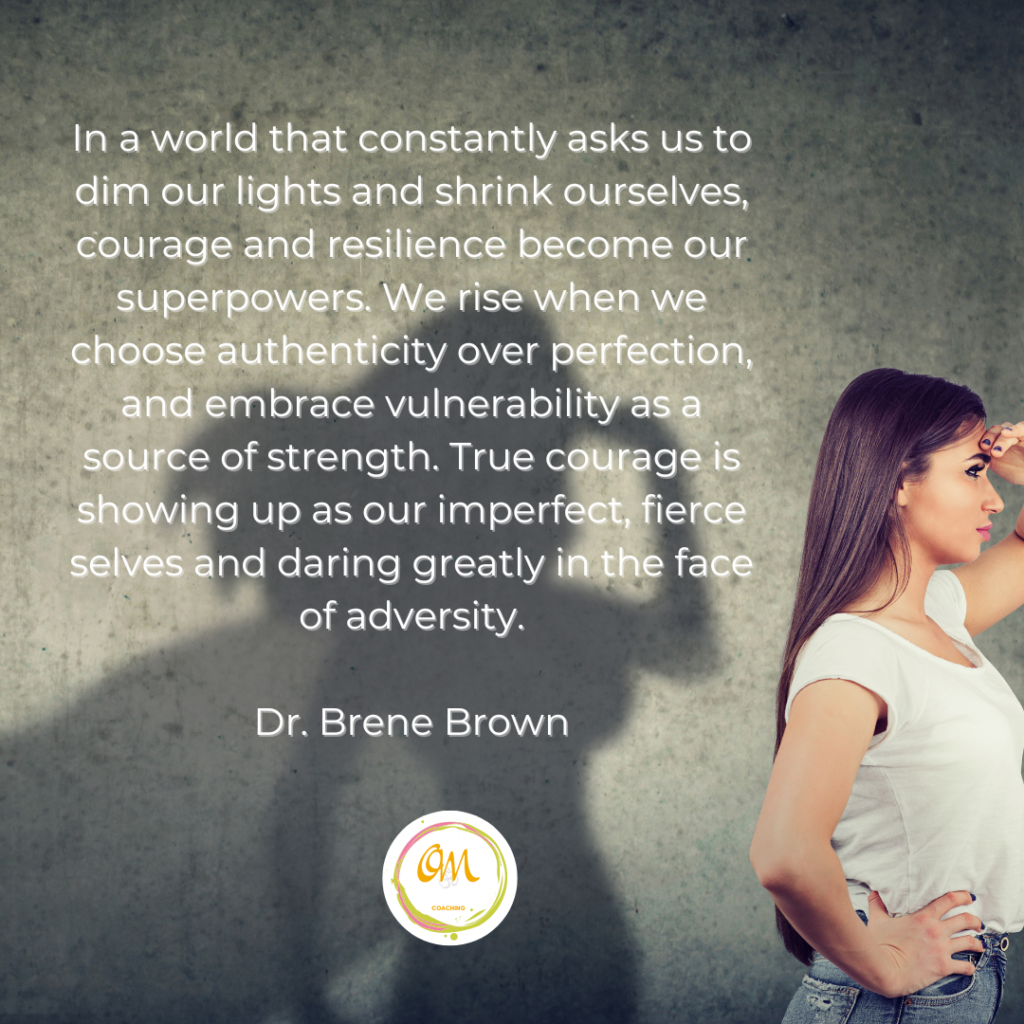 Here are some of the patterns I've noticed in terms of typical challenges I faced as a professional working woman. I offer insights into the typical challenges with a touch of humor while drawing inspiration from the wise words of Dr. Brene Brown on courage and resiliency.
Work-life balance: Trying to balance work, family, and personal life without turning into a coffee-fueled superhero or a chaotic tornado of multitasking.
Gender bias and stereotypes: Battling against outdated notions that suggest our greatest career aspiration should be making a killer casserole or having perfect nail polish.
Imposter syndrome: Navigating the constant fear of being discovered as a "fraud" while secretly wondering if we accidentally left our superwoman cape at home.
Glass ceiling and career advancement: Dodging metaphorical glass shards that occasionally rain down on us as we ascend the corporate ladder, making it an exhilarating and slightly dangerous climb.
Managing self-care and well-being: Attempting to maintain sanity while the world insists we should be able to do everything flawlessly with impeccable hair and flawless makeup.
Meet the Unstoppable Souls
This month on my Omni Mindfulness Podcast, I had the pleasure of having a meaningful conversation with women who exemplify qualities of courage and resiliency.
From overcoming the mental health issues of a parent to turning life setbacks into a world-traveling adventure, each of these guests is an inspiration.
Jessica Zemple: The Life Shucker Coach on Grit & Her Pearls of Wisdom
Jessica Zemple, the founder of Life Shucker, helps individuals and organizations find their deeper purpose and translate that into authentic success through transformative coaching, workshops, and retreats. Jessica is also a keynote speaker and her life coaching philosophies and techniques have been featured in Entrepreneur, Forbes, Huffington Post, Inc., and Thrive Global. Her book, Shuck This Way, reached #1 on Amazon. Shucking is based on the idea that you are a pearl created by layers of strength through the grit of life's experiences. Instead of being ashamed of, running from, or hiding your grit, it is time to own and celebrate the magnificent beauty it has created in you. There is a shell around your lustrous pearl that you can close in times of fear. This is natural and often appropriate. The problem is the once-protective shells start to hold you back from reaching your greatest potential if closed too long. You start to be isolated from the world and live in the dark inside the shell. It is then time to shuck the shell open, with love, to let your pearl shine leading to more meaningful success.
To learn about Jessica Zemple:
#courageandresiliency #lifeshucker #grit #pearsofwisdom #JessicaZemple #omnimindfulness
Jennifer & Holly: The Women of the Daring Venture Team on Courage & Resiliency
In this episode of the Courage and Resiliency podcast series, I interview Jenny and Holley, two of the three founding team members of Daring Ventures. Inspired by the research of Dr. Brené Brown, Daring Ventures offers the empirically based Dare to Lead™ program that helps individuals, teams, and organizations develop courage-building skills to move from armored to daring leadership. In this episode, Jenny and Holley share what courage and resiliency mean to them based on their own life experiences. Tune in now to discover their insights and learn how to build your own courage and resilience! #Courage #Resilience #omnimindfulness #Courage&Resiliency #PodcastEpisode #DaringVentures #DareToLead #BrenéBrown #LeadershipDevelopment #PersonalGrowth The Daring Venture is a team of highly experienced coaches and together they have over 45 years of experience in executive coaching, facilitation, and leadership in for-profit, non-profit and academic settings. They are "living this work" and are committed to the power of vulnerability, courage, and wholehearted leading and living. Jenny, Molly, and Holly use evidence-based human development research and practices including ​Dr. Brené Brown, emotional intelligence, positive psychology, well-being, neuroscience, mindfulness & meditation, visioning, and, purpose. As Certified Dare to Lead™ Facilitators, they partner with leaders and teams to develop courageous practices and behavioral shifts that impact day to day development of human potential, teams, and, culture.
Sarah Peace: Mayhem to Miracles: Finding Joy in The Kitchen
Soundbite
Click on the Play button on the right to listen to a soundbite of Tisha's podcast episode.
Sarah Doan Peace is a Speaker, Kitchen Coach, and Joyful Life Advocate helping you find joy and confidence in the kitchen and beyond! Sarah has learned to survive and thrive through 35 surgeries and more including paralyzed vocal cords and PTSD. While growing up in a "foodie family", Sarah fell in love with cooking and connecting in the kitchen where she learned how to serve herself and others while gaining confidence through cooking. She now teaches others how to do the same! Sarah's real-world tips, tricks, and adaptive cooking skills along with 25 years of experience as a home cook and personal chef make her the go-to Kitchen Coach for a joyful kitchen experience! As a Speaker, Sarah shares stories of miracles over mayhem with warmth, wisdom, and authenticity. She holds a degree in Psychology and dubs herself "a psychology nerd". Although she was once a Ph.D. Candidate in the field her passion for speaking and food are her true calling! In her spare time, you can find Sarah trying new recipes, watching cooking shows, cuddling her fur baby, enjoying time with family, laughing, and learning more about how to best serve her clients! Sarah's mission is to help people live a joyfully delicious life with more confidence, connection, incredible food, and gratitude!
To learn more about Sarah visit her social media links:
Sunitha Sandeep: Awakening Radical Inner Transformations
Sunitha is a TEDx Speaker and Trauma-Informed Transformative Executive Coach helping High-Achieving and High-Functioning women break free from their inner struggles of anxiety, overwhelm, burnout, and fear to reach higher professional success with deep personal fulfillment. She is a certified Meditation/Mindfulness Teacher, Positive Psychology Practitioner, Trauma Support Specialist, Spiritual Coach & an Integrative Wellness Inner-Transformation Coach. She is also a Technical corporate leader, a multi-pageant winner (Mrs. India DC, Maryland Virginia 2021 and Mrs India USA Runner Up 2022), a singer, a wife & a mom She is a thought leader who has been actively challenging the cultural fallacy that stress, struggle and burnout are a prerequisite for creativity, happiness and success. Her mission is in exploring and unleashing human potential using Ancient Wisdom, Scientific Healing, and Conscious Embodiment. Coming from a high-performing corporate leadership background, being a trauma survivor herself, and having recovered from severe anxiety, depression, fibromyalgia, insomnia, tension myoneural syndrome, chronic pain & chronic fatigue syndrome, she has first-hand experience of a radical inner-transformational journey. Her work continues to evolve in alignment with the real-life concerns of the modern-day seeker of peace and fulfillment in an increasingly chaotic world. She teaches truly life-transforming methodologies intricately weaving Eastern practices of contemplative awareness inquiries & mind-body-heart-energy connection with Western practices of somatic trauma healing, positive psychology, cognitive behavioral therapy & emotional intelligence.
To learn about Sunita Sandeep:
Traci Hill: An MS Warrior's Journey – From Firefighting to Courageous Healing
Traci Hill provides the space for people to take back their emotional, mental and physical health through subtle energy alchemy, understanding how to overcome emotional trauma and how to finally follow your passion and purpose. No stranger to adversity and hard work, Traci uses her professional and personal experience to help others live their best lives and equips them to handle whatever life brings them. Traci's life came to a crossroads when she was diagnosed with multiple sclerosis at age 25. She fought back by implementing healthy lifestyle changes with her holistic nutrition education, fitness experience, and energy-healing gifts, and she successfully manages the disease with no medication. She shares her approach on the Facebook group she founded, Healing MS Naturally. Traci received her Master's in Kinesiology from the University of Illinois at Chicago and her health coach training from the Institute for Integrative Nutrition. She has training and is a provider for TRE – Trauma Release Exercise and is a certified FLOW breathing coach. She also uses the Scale of Consciousness and Body Code to help people raise their vibration. Traci is also in the process of receiving her Ph.D. in Natural Medicine while continuing her career as a Chicago Firefighter and Subtle Energy Alchemist Coach with her Conscious Evolution business. After her MS diagnosis and battle with becoming the healthiest version of herself, she found herself divorced with two beautiful kids. She became determined to uncover key components to a life of health and vitality that were outside the status quo. With her extensive wellness education, experience in defying the odds, and energy-healing spirit, Traci helps guide those who are ready to reach the triad of success through soulful, intuitive exploration.
Learn more about Traci:
website: www.consciousevolution.coach
facebook: https://www.facebook.com/traci.consci…
tiktok: https://www.tiktok.com/@consciousevol…
Dr. Daphne Erhart: Spa4theSoul – Adventures of a Globe-Trotting International Life Coach
Dr. Daphne Erhart is an international life coach & psychologist with over 25 years of experience, a master NLP practitioner, bestselling author, and speaker. She is also an avid world traveler and self-care expert. Having explored 51 countries and 49 states, Dr. Daphne is on a remarkable solo journey around the world, living her dreams and nurturing her soul's desires. Dr. Daphne has taken her passion for nurturing the mind, body, and soul and transformed it into a beautiful endeavor called spa4thesoul.com. Through her "Soul Spa," she creates experiences that nourish and transform your inner self, helping you live the life of your dreams. Her expertise extends to areas such as self-care, cultivating healthy relationships, meditation, travel, parenting teenagers struggling with video games, and even offering dating app profile advice. With a deep belief in the power of personal transformation, Dr. Daphne has dedicated her life to helping others create deeply satisfying and healthy lifestyles. She is inspired by witnessing the profound happiness, health, and fulfillment that arise when individuals take care of themselves and make positive changes. Moreover, she is driven by a desire to alleviate preventable suffering caused by unresolved problems and diseases. Dr. Daphne's passions for world travel, turning daydreams into reality, and helping others enjoy full and healthy lives are truly close to her heart. Her mission is to guide you in transforming your inner emotional patterns, naturally leading you to a healthy lifestyle, satisfying relationships, a sense of contribution to the world, and long-term health. Listeners, get ready to embark on a transformative journey as we delve into Dr. Daphne's wealth of knowledge and experiences. Discover how she combines her expertise as a psychologist, master NLP practitioner, and world traveler to empower individuals to change their hearts, change their minds, and change their lives.
Learn more about Daphne:
 #MentalHealthAwarenessMonth#Courage&Resiliency #omnimindfulness #drdaphneerhart #soulspa #spa4thesoul