Exploring Soulful Swagger Pioneers
Do you ever find yourself reflecting on passion and purpose, and feel like those are lofty ideals reserved for extraordinary souls or talented beings? As women, cultural or societal pressures often may shape us early on, where we may not have even explored our potential talent or considered if we even have something truly valuable to offer the world.
But you know what? I've come to realize that deep down, we all yearn for something more—something that sets our souls on fire and makes us feel alive. We secretly seek inspiration and long for stories that remind us that greatness is within reach, no matter who we are or where we come from.
As we venture into the pursuit of passion and the deliberate design of our purpose, it's essential to recognize that vulnerability is an intrinsic part of this transformative journey.
In the words of Michelle Obama, "Failure is a feeling long before it becomes an actual result." The vulnerability we may feel when exploring our talents or striving for greatness is often born from self-doubt, but it's precisely in embracing this vulnerability that we can discover our true potential.
The guests for this month's podcast embody this notion of vulnerability transformed into strength.
Together all of these Soulful Swagger Pioneers, show us that vulnerability is not a weakness, but a gateway to unlocking our true self, and by embracing vulnerability we become an instrumental catalyst for change which is an intrinsic part of our transformative journey.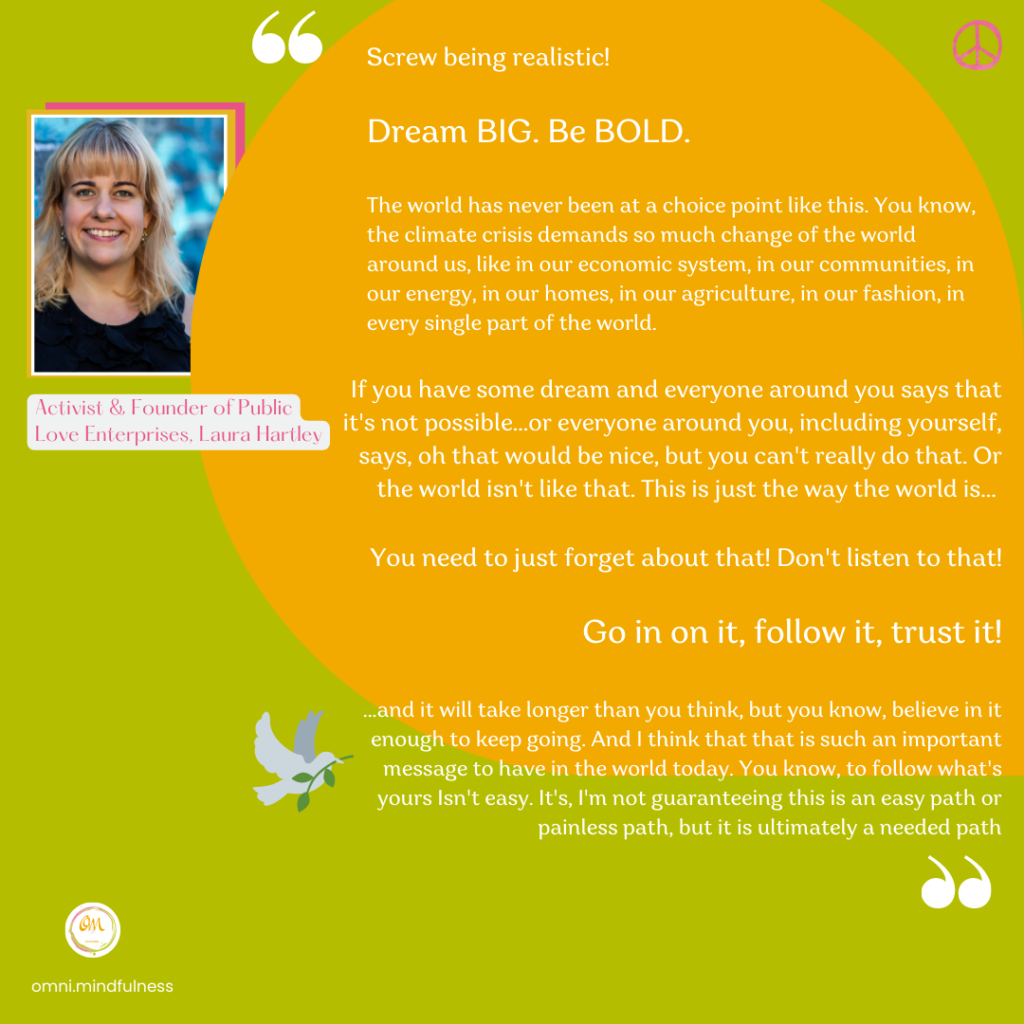 Diverse Array of Talents
Our 'Fireside Chats: Illuminating Passion & Purpose' lineup is a celebration of a diverse array of talents, from musicians whose soul-stirring melodies touch hearts, an activist who challenge the status quo with unwavering courage, visionary entrepreneurs empowering others fearlessly, and even life coaches who inspire and motivate, encouraging us to embrace our vulnerabilities and turn them into catalysts for growth.
Each of these Passion Pioneers, including the life coaches who bring their unique insights, has a way of illuminating our path with wisdom and encouragement.
And one of our extraordinary guests, Laura, an activist, eloquently sums up the spirit of our journey—screw being realistic, dream big, be bold. In a world standing at a pivotal choice point due to the climate crisis, she urges us to challenge the norm, push boundaries, and seek change in every corner of the world.
"So like if you have some dream and everyone around you says that it's not possible, or everyone around you, including yourself, says that. Oh, but that would be nice. But you know, you can't really do that. Or you know, the world isn't like that. This is just the way the world is. You need to just, you know, forget about that. Don't listen to that," Laura emphatically says. "Like go in on it, follow it, trust it, and it will take longer than you think, but you know, believe in it enough to keep going. And I think that that is such an important message to have in the world today. You know, to follow what's yours. It isn't easy. It's, I'm not guaranteeing this is an easy path or a painless path, but it is ultimately a needed path."
Laura's words strike a chord deep within us, reminding us to defy the odds, push through doubts, and forge ahead on our passionate pursuits. Her courage to challenge the status quo ignites a fire within us to embrace our dreams wholeheartedly, regardless of the challenges we may face.
So, gather 'round, and let's delve into these inspiring stories. Together, we'll learn that passion and purpose are not just for the extraordinary or the gifted, but for every one of us willing to explore our vulnerabilities and ignite the fire within.
It's time to shatter those limiting beliefs, open our hearts to inspiration, and embrace the profound impact of passion and purpose in our lives. I'm so thrilled to share this transformative journey with all of you.
Let's spark our inner flames together!
Truus De Groot: The Limitless Incarnations of a Prolific Artist
About Truus
Truus's career started at the beginning of the Punk Rock craze in 1976 in The Netherlands. She began as a vocalist and lyric writer, and her passion for Experimental Electronic instruments soon became evident. Over time, this passion led her to design her own instruments, which she continues to do to this day. Truuse's artistic journey has taken her on a long and diverse path around the world, where she has collaborated with individuals from various genres and cultures. Always seeking new challenges, she constantly explores exciting ways to express herself creatively through music, words, photography, and film. In today's interconnected cyberspace, there are no boundaries, and creativity knows no limits. Truuse embraces the freedom to collaborate with anyone worldwide on a multi-media level, which has proven to be a fruitful and rewarding experience for her. Many of her recent projects have flourished through this new level of collaboration, showcasing the power of creative synergy. Truus's Links: https://www.mixcloud.com/tisaneza/res… Truus is currently promoting: Her Book" Grit, Truus de Groot in New York City" Musical projects with Cosmo Vitelli and Blue Beast. #energyawareness #passion&purpose #omnimindfulness #shilpalewis #trruusdegroot #truusdegrootinthenewyorkcity #cosmovitelli #bluebeast #punkrock #experimentalelectronics #mixmedia
Music Credits:
Music credits for the podcasts go to ​Truus De Groot. Check out her music via this link: https://www.youtube.com/@TruusDeGroot
Junaid Ahmed: Humblezone Home Studio Odyssey
About Junaid
All he could see were the yellow walls behind him the day he stepped into his basement office to shoot his first video course. Junaid Ahmed was planning to launch a course to teach content creators how to use smartphones for video production. But that day, as the record button on his phone began to blink for what seemed like minutes, he froze, realizing that he was completely unprepared. He didn't have the right tools, his setting was unimpressive, and every solution he could think of seemed complicated and temporary. The excitement he had felt about creating his course instantly dwindled. Junaid knew something had to change. So, he stepped back and began to pay attention to other content creators who were producing video content effortlessly and flawlessly, and he realized that he had all the knowledge and equipment to do the same thing. He studied the pros, invested in the tools, and became serious about his craft. Today, Junaid is the Founder of Humblezone and Creator of Home Studio Mastery, designed to teach you how to build your home studio. He has two decades of video production experience, as well as designing websites & apps focused on a systematic process and seamless user experience. He provides podcasters, speakers, and content creators with a comprehensive plan for their studio equipment, lighting, and layout. He also enables video creators to create effortless content in a comfortable and impressive home studio setting. He's the author of Mastering iPhone Video Production, and Host of Hacks & Hobbies podcast. He also speaks frequently at national events such as Podfest and multiple virtual summits. Follow Junaid: Http://Instagram/superjunaid Junaid is Promoting: His book Mastering iPhone Video Production #energyawareness #passion&purpose #omnimindfulness #shilpalewis #superjunaid #homestudiomastery #humblezone #hacks&hobbies #podcast
Music Credits:
Music credits for the podcasts go to ​Truus De Groot. Check out her music via this link: https://www.youtube.com/@TruusDeGroot
Molly Conlin Peterson: Daring to Imagine Your True Potential
About Molly
Molly Conlin Peterson, MA, PCC, CDTLF Executive Coach/Facilitator Co-founder/Partner The Daring Venture and Founder of Imagine Coaching Molly loves working with executives, professionals, and leaders who might be experiencing success on the outside but feels like something is missing on the inside. She helps them realize their true potential and find more meaning at work. By discovering their natural gifts and dreaming bigger, stepping into courage they achieve new levels of engagement, and excellence, and feel life-changing freedom and aliveness. She combines 25 years of experience as an executive/career coach, with thoughtfully designed programs that forward the action and address the internal fears and beliefs that get in the way. Molly is a PCC-level ICF Certified coach, she holds a Master's degree in Human Development and is a Certified Dare to Lead™ Facilitator. Her mission is to help clients realize their true potential and live and work with Purpose+ Courage+ Heart.
Learn About Molly:
www.imaginecoaching.com
www.thedaringventure.com
Music Credits:
Music credits for the podcasts go to ​Truus De Groot. Check out her music via this link: https://www.youtube.com/@TruusDeGroot
Lon Schiffbauer: Energizing the Difference-Makers
About Lon
Lon Schiffbauer is an Associate Professor of Business Management at Salt Lake Community College and a business strategy consultant dedicated to helping companies develop thriving organizational cultures. He holds an MBA, and a Ph.D. in Industrial/Organizational Psychology, and is a SPHR-certified human resources professional with the Society for Human Resource Management. For his dissertation, Lon studied the effects of the pursuit of self-esteem on an employee's ability to thrive in the workplace. In addition to his academic and consulting background, Lon has over 25 years of experience working for such companies as FedEx, Intel, and eBay, as well as a variety of small to mid-sized companies around the world.
Lon's Social Media:
Music Credits:
Music credits for the podcasts go to ​Truus De Groot. Check out her music via this link: https://www.youtube.com/@TruusDeGroot
Amanda Kate: Archetypal Life Coach on Being a Divine, Messy, Human.
About Amanda
Author of Divine. Messy. Human. A Spiritual Guide to Prioritising Internal Truth over External Influence, Kinesiologist, Mentor, Archetypal Life Coach, Mother, and more. A recovering people-pleaser and self-flagellator, she walks the path straddling the Divine and Messy daily. Always growing, developing, and learning new ways of being to, hopefully, one day leave the Earth better than she found it. She lives in Melbourne, Australia with her twin flame, her children, his children, and a dog named Zeus.
Amanda's Social Links:
Amanda is currently Promoting: Divine. Messy. Human. A Spiritual Guide to Prioritising Internal Truth over External Influence #energyawareness #passion&purpose #omnimindfulness #shilpalewis #amandakate #divinemessyhuman #archetypallifecoach #divinelymessy
Music Credits:
Music credits for the podcasts go to ​Truus De Groot. Check out her music via this link: https://www.youtube.com/@TruusDeGroot
Laura Hartley: Radically Reimagining the World as a Passionate Changemaker
Laura Hartley is an activist, coach, and founder of Public Love Enterprises, an online school empowering changemakers to radically reimagine the world, creating the conditions for social healing and collective thriving. Laura is fascinated by the space between inner and outer change, and her work empowers changemakers to get free, dismantling capitalism and oppressive systems from the inside out. She runs programs in healing burnout culture, regenerative leadership & finding your purpose in a changing world.
Laura offers 1:1 coaching and is currently promoting her course on Cultural Wayfinding.
Laura's Social Links:
#energyawareness #passion&purpose #omnimindfulness #shilpalewis #laurahartley #publicloveenterprises #culturalwayfinding #haura.h.hartley
Jason Lee: Writing the Waves of Music with Passion & Purpose
About Jason
Jason is a multifaceted talent whose skills range from being a prolific musician performing in his very own band, Jason Lee & The RIP Tides, and extending his natural love for music as a musical writer and guitar maker. As a musician Jason is a rock star in every sense of the word, performing for over two decades as one of San Diego's top surf-band guitar players. In 2014 his band had their first original full-length album made a worldwide debut. Over the years Jason has led one of YouTube's top instructional video companies teaching guitar techniques for surf, rockabilly, and spaghetti western genres through user-friendly tutorials. Jason also regularly records for television and movies applying his vintage sound with a modern twist. He has made it a personal goal to get the Surf guitar and 1960s instrumental music recognized as a more viable genre of music. He has been an active writer for Tikiland Trading co, in addition to a wide range of related artistic "underground cultures". As a professional music writer, Jason passionately pulls from the emotion of music. He instinctively is able to evoke a range of moods through his music including Sentimentality, Joy, and Somber Rejoice. Such creativity is a skill in its own right, as through his music he is able to match what you see on screen to match visually what the story is telling. In addition to his long-time band Jason Lee and the R.I.P. Tides, he currently has two new projects realizing and performing live. Needless to say, Jason has seamlessly blended his passion and purpose to create an inspirational life.
Jason's Social Links:
Music Credits
#jasonlee #jasonleeandtherriptides #tikiguitarplayer
Ask Your Girls: AYG Co-Founders Igniting Entrepreneurship
About the Founders of Ask Your Girls (AYG)
Serena Kim
As a lifelong traveler, Serena truly believes the world is our oyster. Creating a vision of how to help entrepreneurs is a talent that comes naturally since her professional career has been helping business owners develop brands, market, and build wealth. Serena's goal with AYG is to create a centralized platform to encourage women to follow their passion and pave their own path to doing what they love. Most importantly she wants women not to give up and know the possibilities are endless when you realize you're not alone!
Kaushal Patel
Serena's founding partner of Ask Your Girls, Kaushal Patel never dreamed of being in the limelight, and she'll tell you that her television career all happened by accident. Her favorite part was sharing people's stories with the world. Just like her career was not planned, the lucky stars aligned, and Kaushal & Serena merged their skill sets of web development, public relations, producing, writing, and hosting into this productive platform for women to build each other up.
Aren't you curious to see what your potential can be during this short time on Earth?
When asked what their vision is for the future:
We are building a very strong community of women who believe in our brand and want to be part of it. They are here for the core values that we not only market but live by and feel like this is the one safe place they can expand and grow online. They are business owners looking to scale, which means more money for them and for AYG. We can always refine our technology and our processes and back-office support. What we have built and are continuing to grow is a curated community of engaged women entrepreneurs globally.
AYG Social Links: