What is Spiritual Awareness?
Socrates said, "to know thyself is the beginning of wisdom."
So, how do you gain awareness of the source of wisdom?
Is this knowledge coming from your mind?
In this modern-day world, it's often easy to get caught up with the stories of who we really are. Our mind often leads us to think that we are this human body and mind with all of its limitations.
Our society, cultures, or environments leads us to think that we must strive for some outside of ourselves as a measure of success. Author JJ DiGeronimo refers to modern-day professional women's struggles as "chasing the oasis of success."
In her book, "Seeking" JJ DiGeronimo sought to understand "what is this all for?" after achieving great heights of success yet realizing she felt empty. Like many professional women that feel depleted, isolated, or lost, JJ realized that her soul yearned for greater awareness or inner awakening.
Awareness is about stepping into your own light and realizing your immense self-worth.
In her book, "Original Wisdom: Harness the Power of the Authentic You" author Donna Bond describes our multidimensional being consisting of your big "S" self (your Soul) which is connected to "All that is" and your small "s" self which is your physical body and personality which is guided by the ego. The mind is connected to the ego, which operates on making future decisions based on past experiences.
Our Soul, often referred to as our Higher Self, has the capacity to guide us through intuition.
This Higher Self is a divine light that is authentic, courageous, calm, creative, and intelligent. This is the Source that we often forget to acknowledge. This inner being is the source of the wisdom each of us seeks.
SPIRITUAL AWARENESS of our Higher Self allows us to realize that our Soul is energy that is connected to the Source energy of the Universe.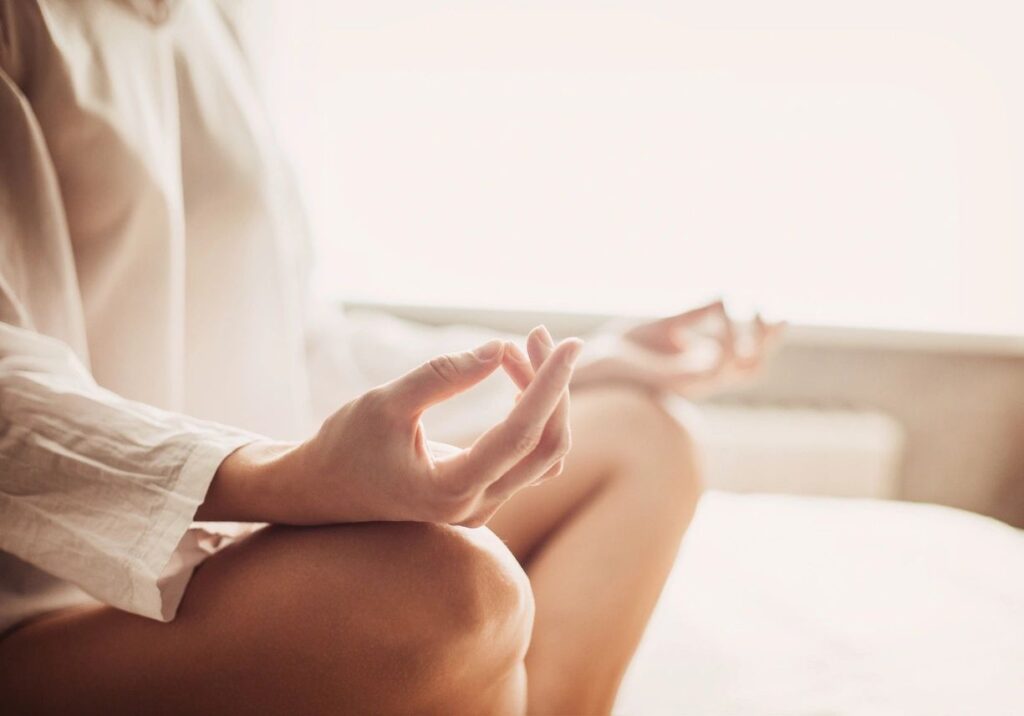 Saints like my guru, Paramahansa Yogananda have illuminated the path to realizing our Higher Self through mindfulness modalities like meditation.
"You realize that all along, there was something tremendous within you, and you did not know it."

– PARMAHANSA YOGANANDA
One cultivates this realization through tools like meditation.
See my How to Meditate Guide
Enlighted Souls with Spiritual Awarness of their Higher Self
During the month of March, my Omni Mindfulness podcast guests and I delve deeper into the concept of "Spiritual Awareness".
While spirituality often has strong connotations that might feel esoteric, my guests help bring this concept into the context of modern-day living. Many of us get so busy managing our personal life and work life, leaving little time to connect to our human selves to our Higher Self.
Each of my guests offers strategic tools and techniques for creating greater alignment in body, mind, and spirit.
And each of my guests offers wisdom on how we can elevate our life by harnessing the power of our souls.
Tune in to Omni Mindfulness Podcast soundbites from this month's guests to expand your understanding of spiritual awarness.
Aimee Leigh: Trusting Your Intuition to Cultivate Spiritual Awareness
Aimee Leigh is a dynamic international spiritual teacher, intuitive consultant, energy worker, author, and speaker. She is an expert in the field of intuition and energy awareness. Aimee mentors and teaches individuals empowering skills to create highly fulfilling, inspired lives and businesses by developing their intuition and learning energy skills to live and lead at their fullest potential. Her consultations offer intuitive energetic insight and guidance to create success and well-being in life and business. With a unique blend of compassion, neutrality, humor, and truth, Aimee brings all of her experience and wisdom to support others to reconnect with their spirit, trust their intuition, and expand their energy awareness. Her mission is to help others live life intuitively guided, self-resourced, empowered, and authentic to manifest their best authentic life. Aimee is the founder of Soul Happy, offering courses, group programs, intuitive readings, healing sessions, and private mentorships. Discover more about Aimee here: soulhappy.life #aimeeleigh #soulhappylife #omnimindfulness #spiriitualawareness #spirituality
JJ DiGeronimo: Supporting those Seeking
Two-time award-winning author JJ DiGeronimo helps women raise their frequencies and empower their future impact through tried-and-tested strategies, mindfulness, and energetic practices. Formerly a leading woman in the tech industry, she now passionately strives to help women gain more seats at more tables by sharing the key findings that have helped her and countless others illuminate a path forward. Featured in publications such as Forbes, The Wall Street Journal, and Thrive Global, DiGeronimo is regularly an invited speaker for events and conferences. Her work includes three books, two podcasts, two global online communities, and in-person experiences. Discover her work at www.JJDiGeronimo.co #spiritualawareness #jj #JJDigeronimo #togetherweseek #seeking #omnimindfulness #spirituality
Harmony Kwiker: Aligning to Your True Self for Living & Loving
Harmony Kwiker, MA, is a psychotherapist, author, and professor at Naropa University, where she teaches transpersonal counseling. She is also the founder of the Institute for Spiritual Alignment where she trains practitioners to bridge the divide between the traditional and spiritual transformation. In her first book, Reveal: Embody the True Self Beyond Trauma and Conditioning, Harmony does what most experts rarely do—she vulnerably shares her story of transformation while simultaneously empowering readers to discover their truest selves. Her new book, Align: Living and Loving from the True Self is now available. #spiritualawareness#harmonyswiker#aligningtoyourtrueself @alignmingtoyourtrueselfforlivingandloving #psychotherapist#omnimindfulness#spirituality @thespirituallyaligned #thespirituallyaligned Learn more about Harmony and her work: www.instagram.com/thespirituallyaligned.com www.facebook.com/Harmony_Kiwker / @thespirituallyal… www.twitter.com/alignwspirit
Priyank Patel: Spiritual Awareness through the Lens of a Yogananda Disciple
Priyank is a spiritual aspirant, devoting his life purpose to his guru of Paramahansa Yogananda. He is from London and works as a Chartered Engineer. His Yogananda Podcast connects seekers from around the world in an engaging, relatable, and conversational style focussing on the spiritual classic: The Autobiography of a Yogi. #spiritualawareness #omnimindfulness #spirituality #parmahansayogananda #yogananda #Awake #AutoBiographyofAYogi #priyankpatel #SRF